Hey there!
This is my first end-of-the-year post, and I'm so excited to look back on this reading year with you. Yes, this year was pretty terrible and books definitely helped me a lot in dealing with all the stress, sadness and confinement. We got not only fantastic stories this year, but also stunning covers that actually made me wanna cry with how pretty they are. So here are my favorite covers of 2020:
1. The Invisible Life of Addie LaRue by V.E. Schwab
Not only was this my most anticipated book of the year, by one of my favorite authors ever, but it's also stunning. It's so simple and elegant, with a beautiful typography, and the constellation just killed me. I've always loved the sky and star-gazing, so I was so happy with this cover. Also, don't get me started on the UK version. Also stunning, to the point where I'm actually considering getting it as well.
2. Star Daughter by Shveta Thakrar
I mean, just look at it! Again with the stars on the cover, and on top of that it also has a gorgeous illustration. I absolutely adore illustrated covers, and this one has everything that I could possibly love. The style is so beautiful and it immediately caught my eye. Also, all the gold detailing elevates everything to perfection.
3. Chain of Gold by Cassandra Clare
It is a well-docummented phenomenon that I love Cassie's books. However, the original covers never really did it for me until Lady Midnight. It was a beautiful book, and so shiny too! And then Chain of Gold came along and blew it out of the park. Pretty girl in a pretty dress, with pretty flowing hair. And a sword. That's it, that's all it takes to win me over. Also, did I mention it's also super shiny?
4. Mexican Gothic by Silvia Moreno-Garcia
Horror is really not my genre. I don't like the movies, I don't read the books, it's just not for me. But this book, with this fantastic cover, convinced me to give it a go. The colors are great and contrast so well! I don't usually like real people on covers, but this model is just so beautiful and the dress she's wearing fits her so well. Actually, I still don't know if this is a real person or an illustration, and isn't that just crazy? For some reason, this cover really seems to fit the mood of the story, and I'm super excited to pick it up.
5. A Song of Wraiths and Ruin by Roseanne A. Brown
Again with the beautiful model in beautiful and sparkly clothes. But I mean, this looks majestic! All the gold detailing is so intricate and she looks so regal. Those illustrations in the background are beautiful and really makes the model pop out. It makes me so happy that this year we got so many increadible covers featuring POC character illustrations and models. It was about time, really.
6. House of Earth and Blood by Sarah J. Maas
Insanely intricate illustration with shiny foiled detailing and a beautiful moon right at the middle. Can you see the pattern here? I clearly have a type. I also really like the colors used in this cover, for some reason I feel like they really fit the story well.
7. Felix Ever After by Kacen Callender
Again with the beautiful illustration, eye-catching color combo and this one even has flowers! I could go on and on about this cover, but in the spirit of not repeating myself yet again, I'll let Lady Gaga say it all for me: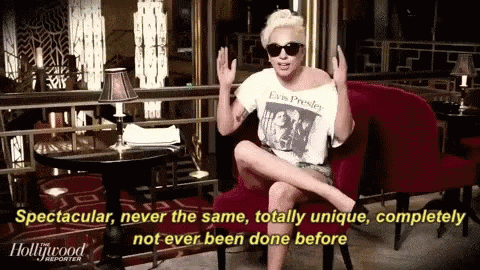 Bonus:
Clap When You Land by Elizabeth Acevedo: not only is the cover absolutely stunning, it's also the prettiest naked book I've ever seen. Despite prefering paperbacks, I'd definitely buy this hardcover just because of the patterns it has going on.
The Princess Will Save You by Sarah Henning: in case it wasn't clear, I love illustrated covers and this one is beautiful! I also really like the title, so this one has been added to the top of my TBR.
I tried to keep this one short and sweet, but it clearly got away from me though 😅 I hope I didn't bore you too much with all the gushing about pretty covers.
What's your favorite 2020 cover? Have you read it already or is it still on your TBR?
Until next time,