Hey there!
In honor of me completing yet another spin around the sun and getting older today, I thought I'd do this super fun, cake-themed tag.
Before we get into it though, I'd like to tell you how happy I am to be a part of this community and how much your support and friendship have meant to me, especially this last year. Thank you for sticking around and making my days better with your lovely comments and amazing posts.
Now for the tag – I saw it on Jessica's blog, and you should totally go check out her answers. I don't know who created it, but if you do please let me know so I can give proper credit. Ok, we can get into it now.
CHOCOLATE — a dark book that you loved
Vicious by V.E. Schwab – I'm sure I've read much darker books, but this one is the first that came to mind when I read that prompt. It's a villain origin story, so there's murder and plotting and revenge and whatnot, but it's also so sweet in the most unexpected ways. Dark books are interesting, but I prefer those that have some fluff sprinkled throughout the story.
VANILLA — favorite light read
Red, White & Royal Blue by Casey McQuiston – Romcoms are the best light reads, and this one is probably one of my favorites ever. It includes my favorite trope (enemies to lovers), it's hilarious, it touches on some difficult subjects in the best possible way and the writing is just so good. I flew through this one when I first read it, and I can't wait to reread it, hopefully sometime in the near future.
RED VELVET — a book that gave you mixed emotions
Eleanor Oliphant Is Completely Fine by Gail Honeyman – This is a recent read and I'm still a bit conflicted over this one. The first 70% of the book was just ok, nothing super interesting or captivating. But that last 30% packed such a big emotional punch that I don't think I've fully recovered yet. It felt so raw and personal and it actually made me cry (just a little bit). So yeah, wasn't the biggest fan of most of this story, but the ending is probably one of my favorite things ever.
CHEESECAKE — a book that you'd recommend to everyone
Percy Jackson and the Olympians by Rick Riordan – I firmly believe that everyone should read at least one middle-grade novel each year, for the good vibes and overall magical happiness it brings. Now, the most amazing series that I can recommend that will make you laugh and get emotionally invested (in greek mythology, no less) is this one. This is one of my all-time favorites and I hope you get to experience the pure joy that these books bring me.
COFFEE — a book that you started but never finished.
Again, but Better by Christine Riccio – I don't usually leave a book unfinished, but I remember picking this one up to see what all the hype was about, putting it down, and never once thinking about picking it up again. I know so many people love this story, but I think it just wasn't for me. I wasn't really interested in seeing what would happen next and the writing style was bothering me. My TBR is too big to read something I'm not enjoying so I don't regret letting this one go.
CARROT — a book with great writing
The Starless Sea by Erin Morgenstern – This book definitely is not for everyone, I'm well aware of that. It's whimsical and feels like a fever dream, you spend most of it confused and just going with the flow, but I loved this one so much. The writing felt so beautiful and magical, and I was entranced by it the entire time. I (sometimes) annotate my books, and I just felt like tabbing every other sentence in this one. Can't wait to reread this one as well, and hopefully multiple times in the future.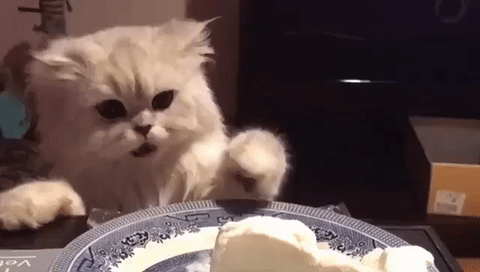 That's it for this tag! Once again, thank you for sticking around and making my 2020 more bearable. Here 🍰 have some cake so we can celebrate together. In case you're wondering, today I'll be having orange cake, one of my favorites.
What is your favorite type/flavor of cake?
Until next time,