It's the month of love, and what's bigger than our passion for books? That's right, nothing. There's no better feeling than getting sucked into a good story, which is why I'm sharing some books that could be perfect for you, depending on what you like best. I saw this tag in Tiffany's blog, so be sure to check her answers as well.
RULES
Answer honestly, there are no wrong answers

To make it just a little harder, you can't mention the same book twice

Have FUN!

Tag

Sofii

if you decide to do it, She would love to see your answers

Tag at least 5 people
The Perfect Genre
pick a book that perfectly represents its genre
Murder on the Orient Express: this Agatha Christie is the perfect example of a murder mystery. There is a seemingly unsolvable crime, a bunch of suspects and a clever detective who's the only one who could solve the mystery. Also, they are all stuck in a train throughout it all. It's great, short and the first Christie book I ever read. 
The Perfect Setting
pick a book that takes place in a perfect place
The Raven Boys: This book, and the entire series really, take place in a small american town. However, the most important place in the story is Cabeswater, the most magical woods ever. This book is so atmospheric and I love this aspect of it so much!
The Perfect Main Character
pick the perfect main character
Cinder: She's super smart, caring and kind. She's also a great friend, very loyal and a total badass. She's the best kind of protagonist, while still letting the other characters shine through. 
The Perfect Best Friend
loyal and supportive, pick a character that you think is the best friend ever
Percy Jackson: I mean, his loyalty to his friends is considered his mortal flaw. How could I not pick him for this? Percy is impulsive but he's also super supportive of his friends and would literally do anything for them. You couldn't ask for a better friend. 
The Perfect Love Interest
pick a character you think would be an amazing romantic partner
Jem Carstairs: Jem is the sweetest character ever. He's compassionate, kind, has a heart of gold and always puts everyone's happiness first. Also, Church loves him despite hating everyone else, and cats really are the best judges of character. 
The Perfect Villain
pick a character with the most sinister mind
President Snow: He had children murder each other every year, broadcasted it to the entire country, and called it entertainment. He was calculating, manipulative and had no qualms about using other people for his own gain. What's scariest, our own politicians are starting to look more and more like him. 
The Perfect Family
pick a perfect bookish family
The Blackthorns: There are so many Blackthorns and I want them all to be happy and stay together forever. Is that too much to ask? These children have been through so much, but their family is the most important thing for each one of them and they are fiercely protective of one another. Their relationship just makes me so happy. 
The Perfect Animal or Pet
pick a pet or fantastic animal that you need to see on a book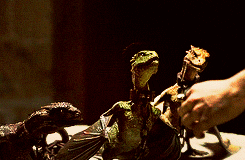 Dragons: I mean, if you can have a magical world you can definitely add some dragons to it, right? They are majestic and powerful and I need to read more books with dragons in them. Also, reptiles are my kind of thing (surprise, I have 2 turtles). 
The Perfect Plot Twist
pick a book with the best plot twist
We Were Liars: I first read this book back in 2014, but the plot twist caught me so off guard that I still think about it sometimes. I did go into this book without knowing anything aboout it, so the plot twist shocked me so much that I was left gasping for quite a while.
The Perfect Trope
pick that trope you would add to your own book without thinking
Enemies-to-lovers: This is the best trope ever and no one can convince otherwise. Carry On does a great job at using it, which is why it is one of the cutest reads ever. Also, there's a cool magic system and Simon is "The Chosen One" (another trope! This book is great at using them). 
The Perfect Cover
pick that cover that you would easily put in your own book
Sorcery of Thorns: Not gonna lie, the cover was what first made me interested in this book. The art is gorgeous and the colors are amazing. It's so aesthetic. Also, once I actually read what it was about, I just fell in love. 
The Perfect Ending
pick a book that has the perfect ending
The Song of Achilles: SInce this is the story of (you guessed it) Achilles, I already knew how it would end. So I prepared myself, and tried not to get attached. It was all in vain. This book is so good! And yes, even if I already knew what would happen, the way it did was so emotional that it had me in tears. I was legitimately crying during the last few pages. So beautiful. 
That's it for this tag. I thought not repeating books would be harder, but I actually came up with the answers rather easily. Also, I know I used 2 Cassandra Clare books, but they are from different series so it counts! Right?
I'm not tagging anyone in particular, but please feel free to do it as well. If you decide to participate, please let me know so I can see your answers!
Until next time,